Pony Form: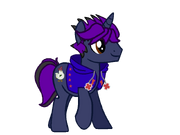 Unfortunately, but perhaps unsurprisingly to some, Dr. Fowl was exposed as holding the same faults as ToonkritikY2K- actively engaging in...illegal private messages with a minor. All respect to any potential victims reading- why something like this wasn't here forever ago when this got out, I'm not sure.
-Onyx, Wiki mod/writer
Background
in Dr Fowls Backstory it is said he hails from the lifebeing, a stone bird that shattered to create life on the world, the byproduct of this being the energy that brought the Rift into being, after a few iterations haphestus, Dr Fowl was formed from the egg of his fathers soul when it split off into 2 entities, Dr Fowl and King Cocklesworth (the bronalysis king born of the egg formed by the second haphestus), While Dr Fowl stayed in the present, King Cocklesworth went to the future and ran the world as its king.
Dr Fowl saw the world and thought, that he would take the form of a pony to try and fit in, but after growing a distaste for the content created by the people around him he took it upon himself to shed his pony form and take upon his true form.
Trivia
The First and Only Chicken Analyst on YouTube.
One of the first members of the rift (first moderation)
English
Is the Head Honcho of the Chicken Brigade, a private army of chickens trained in a secret martial art.
His OC cameoed in "The Shipping Game" next to MrEnter and behind Persian Poetess.
Played a Tiefling Bard in D&D 5E who wears a purple chicken costume.
Was caught having erotic PMs with a minor and has since left the fandom.
Links
YouTube: https://www.youtube.com/user/BronyDev
Second Channel: https://www.youtube.com/user/Darkedge42
Twitter: https://twitter.com/darkedge42
Patreon: https://www.patreon.com/fowlplay?ty=h
MLP Forums: http://www.mlpforums.com/user/31560-bronydev
Community content is available under
CC-BY-SA
unless otherwise noted.