Background
Patrick Rowberry is a green and blue Pegasus pony that has many questions surrounding him; from why he is made up of two colors to why he uses his real name, and so on. After the disappearance of the real Patrick Rowberry in November 2015 people question who is still making these videos. His upbringing is unknown. He gains power every month and doesn't stop making videos. He is also a member and Moderator of The Rift City.
Patrick is a background man in the community working on multiple projects. He has written for all baring 1 of the monthly rift to date, has edited a few, and been a driving force to keep projects on time.
He is the head of PoniesOnline, an online convention that happened on the 23rd of May, 2020. PoniesOnline was a Collab with a pony-Minecraft-con named SeaPonyCon and had it's opening ceremony streamed live to YouTube though PoniesOnline. In February 2020 hahcon was cancelled last minute. Patrick created and helped move everyone to a new group named "PoniesOnline". He got bannanimation, blue prisum, hojo, n30, and alexwolf all on board to help with the online convention. It was a 24 hour convention that raised over £200 for Childs Play. It was held on May 23 and had panels from drawing, to gaming, to talks on robot ponies and so much more. Despite the convention being a mixed bag, there are rumors about a PoniesOnline 2021.
Trivia
His true weakness is his spelling (And it shows: editing this page was a freaking nightmare! -BB [Thanks for doing the hard stuff for me. -PAP])
He's a massive fan of robot wars and other robot combat shows.
He's one of the few brony reviewers who uses their real name.
His OC is made out of cardboard and clay and he makes other people's OCs out of the same materials
He has collaborated with people like Freedom Flash and Pat Rex 11
Links
YouTube: https://www.youtube.com/channel/UCNRE7FYtiGICZTqiY5vlrtA
PoniesOnline Website: https://poniesonline.org/index.html
PoniesOnline Discord: https://discord.gg/sQSwUZ4
Gallery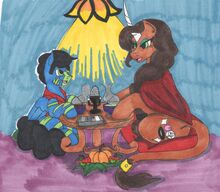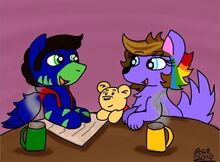 Community content is available under
CC-BY-SA
unless otherwise noted.