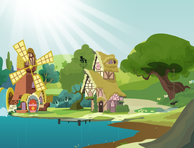 Info On The House
Edit
Rose Pal lives in a lakeside cottage just outside of Ponyville with a Windmill Den next door to it.
List Of Rooms
Edit
Main Lounge and Work Area - This is where she mainly does her reviews. Has a small table with cushions, a large bookcase with ornaments of her favourite shows - a miniature Tardis and a Perry The Platypus toy and Phineas's Hat, a Powerpuff Girls poster, a desk with a pink laptop, mug, quill pen and inkwell and her saddle bag, a Doctor Whooves Poster, a Phineas and The AllStars poster and a tall lamp. And on one wall there is a door that enters the world of the Rift Cafe.

Kitchen - This is were Rosie does her baking, making delicious cakes and sweets for her friends when they come round for parties etc etc.
Community content is available under
CC-BY-SA
unless otherwise noted.