History
[
]

Not to be confused for The Rift Café (Skype Group) or The Rift Cafe (Discord Server)


The Rift was created during a collab between AnY and Voice of Reason on the season 3 closer 'Magical Mystery Cure" when an explosion in part 1 sent the 2 from AnY's channel to Voice's Channel. The result was a hole in the 4th wall of all MLP related youtube channels.
The rift persisted throughout all of season 4 until Voice decided that he wanted to close it once and for all. It was going to close on a bookend 2 part review of the season 4 closer "Twilight's Kingdom" between AnY and Voice. At the end of the review Voice realized the important roll the rift now played in the Bronalysis community and beyond. So instead of closing it he stabilized it and opened it all the way. He then built a Café, later called "The Rift Café" in the center of it and an ever expanding hallway of doors.
Voice then set out to master the strange magic of the rift and eventually he did. He now has Ink Rose as his apprentice. The Rift has since been the cause of any and all crossovers and collabs and is getting bigger by the day adding more and more channels.
(1) The Secret Rift:
(2) Galafrey:
(3) The Rift Cafe
(4) The Void (RWVV)
(5) the other Void (by Vida)
(6) The Cosmic Belt ( the place were Master Code's Flag Ship the "Mjolnir" hangs out most of the time.
(7) Cosmic Zone (Also Known as The Planet of Equestria)
(8) The Rift City (Originally created by Jakee Arnold)
(9) Rainbow Road (with Bronies Rift doors)
(10) The Void/The Outpost ( By Onyx the Dragon)
The Rift Café (Present Day)
[
]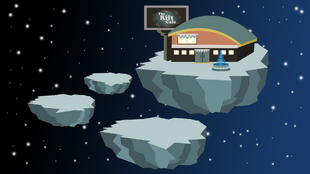 The café sits in the center of the Rift. Though it was built by Voice of Reason it is owned and operated by TheLooneyTurtle. It functions as a meeting place for all bronies whose channels are connected to the rift. However, it does see frequent attempts be taken over, and ruled by a despotic dictator. Usually by alter egos of analysts, such as CartoonZ, or Thunder Blight. Though such attempts have yet to actually succeed.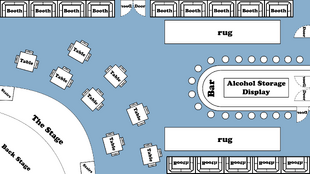 Known Amenities
[
]
Bar
Stage
Eating Area
Kitchen
Science lab
Pool
Respawn Machine
Med bay
Long Interdimensional Hallway (like REALLY long)
Duel Arena (Created by Traveling Arrow)
The Hallway
[
]
A long ever-expanding hallway that has doors to the channels of each and every analyst, a few musicians, artists, and animators.