Xiaomu Smash 14
Edit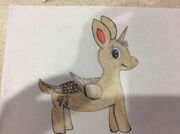 Hello, everypony! This is Xiaomu Smash 14, your Pantheon Queen!

XiaomuSmash14 is a new member of the Rift Café and a fan of the My Little Pony series.
Sweet Beginnings, Sweet Innocence
Edit
Xiaomu Smash 14 was around 7 years old when she first became a fan of My Little Pony. Ironically, she heard that some of her favorite Bronies, like DRWolf for instance, hated Generation 3, but Gen 3 was her reason as to why she loved MLP. If it were up to her, then everything about the 3rd Generation would apply to Gen 4. It wasn't until late 2011 she found out that Gen 4 for MLP would be coming soon called My Little Pony: Friendship is Magic.
She started saying that after she watched some of the Kirby anime. She doesn't really remember why other than the fact that it sounded so cute.
Project X Zone Fanatic
Edit
She happens to be a fan of the Project X Zone series, being introduced to it via trailer for Project X Zone 2 shown by a YouTube channel GameXplain. She absolutely loved it and asked her dad to get it for her (even though it wasn't supposed to be out until 2016 of March). The big surprise? The day after she told her dad that she wanted Project X Zone 2, he went to Game Stop with one of her older brothers to pick up something for him, he found a used copy of the predecessor to the game, which was Project X Zone, so she could try it out.
Backstory
Edit
(This article is a stub. Will add info soon. Do not edit.)
Community content is available under
CC-BY-SA
unless otherwise noted.